Mission
To develop our pupils to be proficient and pervasive users of the Language
Organisation Chart
Mother Tongue Department

HOD Mother Tongue
Mdm Yap Fang Ying
Subject Head Chinese Language
Mr Guo Jiguang
Senior Teacher Chinese Language
Mrs Heng Meng Tee
Senior Teacher Chinese Language
Mdm Foo Hwa Ming
TL Coordinator
Mrs Kalamani Tanabal
ML Coordinator
Ms Shaheda Salim
Teacher
Mdm Ang Geok Peng
Ms Azizah
Ms Chew Sok Tien
Mdm Chong Suh In
Mdm Chua Huiyi
Mdm Durai Thamaraiselvi
Mdm Eng Lee Na
Ms Eng Lik Boon
Ms Gao Jingru
Ms Khoo Wai Ling
Ms Lau Lu Ying
Ms Lee Mei Lup
Mdm Lee Shiao Huai
Ms Li Yixian
Ms Lim Zi Hui
Mdm Lui Keet Mun
Ms Ning Fanye
Mdm Poh Weijing
Mdm Roslinda
Mdm Sashikala
Ms Shaheda
Mdm Tan Chiew Nooi
Mdm Tan Hui Li
Mdm Tang Jingwen
Mdm Toh Dea Beng
Mdm Wong Wei Yuan
Ms Yap Ying Tong
Mdm Yue Siew Poh
Programmes
MTL Reading Programme
MTL department's reading programme aims to raise the awareness and importance of reading MTL story books and to encourage active reading among our students. Students can look forward to a series of fun and interactive reading activities, both within and outside curriculum.
MTL Fortnight and Cultural Camp
The CL/ML/TL Fortnight programme aims to create an immersive environment for the learning of MTL. A wide range of activities related to CL/ML/TL language and culture are conducted.
The Language and Cultural Camp provides an immersive environment for students to learn and use MTL in a more in-depth manner, and to appreciate their respective MTL cultures through hands-on tasks such as drama, performances and/or storytelling.
Cultural Performance Exposure Scheme (CPES)
The Cultural Performance Exposure Scheme (CPES) is a MOE  initiative that aims to engage students in Chinese dramas and Chinese-Language related performances by local and overseas arts groups. Students can look forward to curated Chinese-Language related performances.
Conversational Chinese and Malay (CCM) Programme
Conversational Chinese and Malay Programme aims to strengthen Singapore's multi-racial compact and to enable students to have some grounding of the language so that they could more easily pick up the language should they need it for economic or other reasons in adult life. 
CL Oracy Enrichment Programme (Selected Students Only)
The objectives of the programme are to:
a) develop creative thinkers: the students are taught how to be creative in their oral presentation.
b) nurture confident communicators: the students are equipped with skills and given opportunities to grow their confidence in their written and oral communication. 
The programme will cover:
ways to improve public speaking skills through activities such as recitation and storytelling
steps to craft a script for public speaking
strategies to deliver a dynamic speech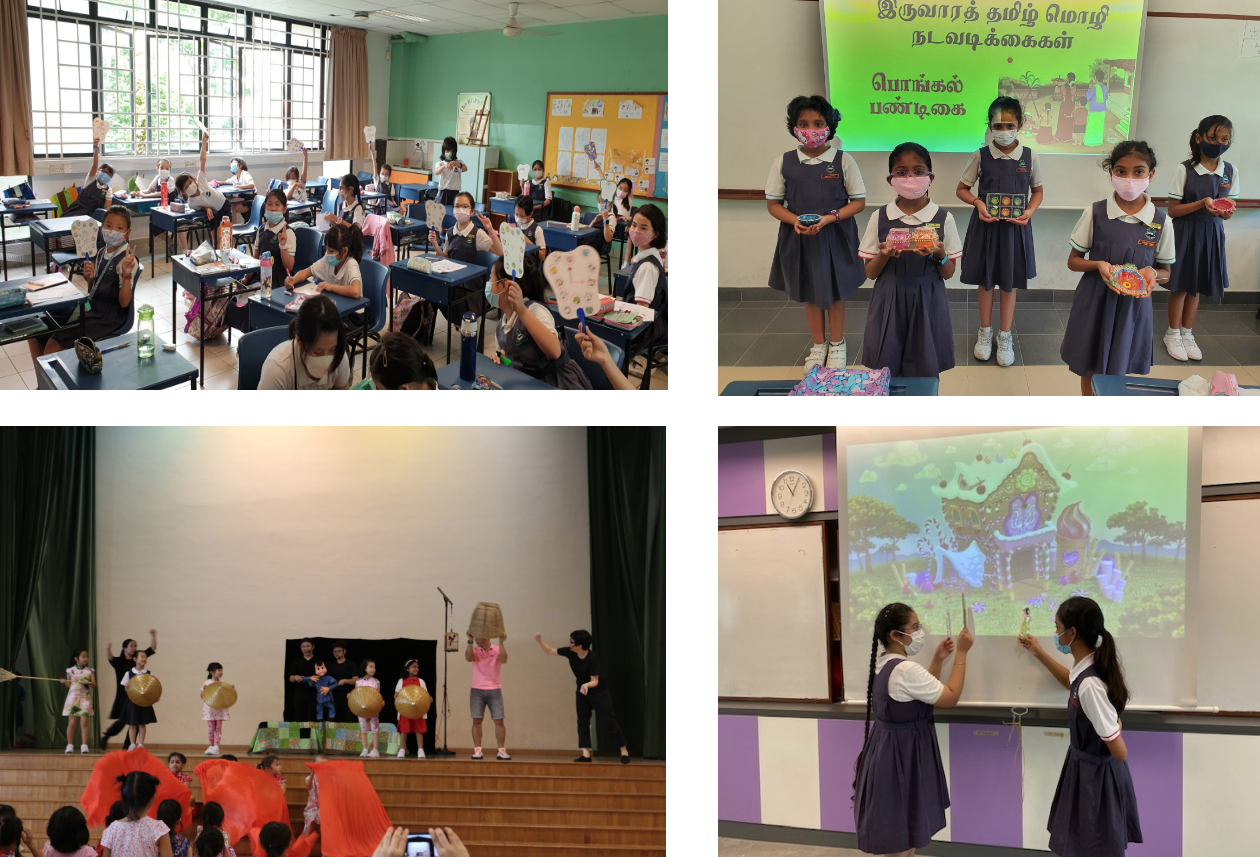 Assessment
Our beliefs are:
Assessment must be aligned to the intended learning outcomes, content and pedagogy.
Assessment facilitates meaningful learning, is learner-centric and has a formative effect on our students' learning.
Assessment should be balanced – integrating Assessment for Learning (AfL) and Assessment of Learning (AoL)
Assessment is an on-going and iterative process of monitoring one's learning. It provides students with feedback that not only demonstrates understanding, but also affords opportunities for reflection that improves the inquiry process.
P1 & P2
Assessments are non-weighted.
Teachers use a variety of checklists and mini performance tasks to monitor students' progress and learning. Subject-specific Learning Outcomes (LOs) are used for the purpose of reporting students' learning progress.
P3 & P6
Bite-sized forms of weighted assessments are conducted in Term 1, Term 2 and Term 3. End-of-year examination is conducted in Term 4. The table below shows an overview.
| | Term 1 | Term 2 | Term 3 | Term 4 |
| --- | --- | --- | --- | --- |
| | Weighted Assessment 1 | Weighted Assessment 1/2 | Weighted Assessment 2 | End-of-Year Examination |
| Primary 3 | - | Writing | Language Use & Comprehension | Composition Writing |
| Primary 4 | - | Oral | Language Use & Comprehension | Language Use & Comprehension |
| Primary 5 | - | Language Use & Comprehension | Writing | Listening Comprehension |
| Primary 6 | Oral | Language Use & Comprehension | | Oral |